Plein Air Watercolor Painting
Painting on Sedona's Red Rocks
Sunshower Rose gently tutors Watercolor painting outdoors in Sedona, Arizona -- for beginners to seasoned artists. The magnificent Red Rocks create a perfect palette of colors to inspire you! We take a very short, easy hike and then sit comfortably to paint en Plein Air style.
She provides art materials for those who don't have them.Or you can bring your own favorite watercolors and equipment. Sunshower provides camping style light-weight chairs in bags.
Sunshower will give a brief overview of Composition & Color . . . to ease into this Artsy Experience. We will draw the scene first in pencil.
Once you feel comfortable with your 'loose' drawing, then begins the painting magic!
Within 2 hours, we will discuss our art pieces, while enjoying the majestic Red Rocks of Sedona.
Get ready, because there will be some surprises - as your art piece progresses! You'll enjoy your Watercolor Experience 'en plein air' with Sunshower, a seasoned, professional Watercolorist, as your guide.
Painting en Plein Air in Sedona has a unique quality to it. There is such drama and beauty in the landscape that it brings out the best artist in us all.  Of course, the experience of simply being amid the fabled Red Rocks is magical in itself!
Sunshower is also the designer of the City of Sedona official logo.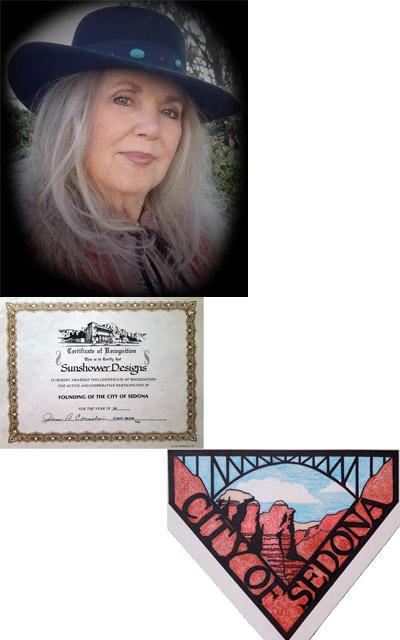 This Outdoor Activity is best for people 15 years or older. Anyone under 18 must be accomanied by a parent or legal guardian.
To reserve a Plein Air Watercolor session, please call: 928.550.1088
Reviews:
Sunshower is an excellent host with a kind personality. She had everything we needed for our paintings and was thorough with her instructions. The short hike was easy and very manageable even for the least experienced hikers, and the views were definitely worth it.
--Tovah, Gilbert, AZ
What a fantastic experience! I highly recommend this to anyone visiting Sedona. It's a unique and fun way to connect with the beauty of the area. It's also very educational.
--Arian, Utah
This was a magical experience - Definitely one my favorite memories from the trip! It felt like a once in a lifetime moment to paint the beautiful red rocks. If you're looking for a something out of the box to do, you've found it!! I have no experience painting but Sunshower made it fun and I learned so much.
--Nicholas, CO
Sunshower Rose: Collaborative Art Works
2 hour art tutorial, outdoors on the Red Rocks of Sedona, Arizona.
Guided by a long-time resident in the environs of Sedona, Arizona, Ms. Rose gently tutors Watercolors 'en plein air' style.
No need for experience. Just come and enjoy the magnificence of Sedona's Red Rocks, as one of the TOP 10 Sacred Sites of the World.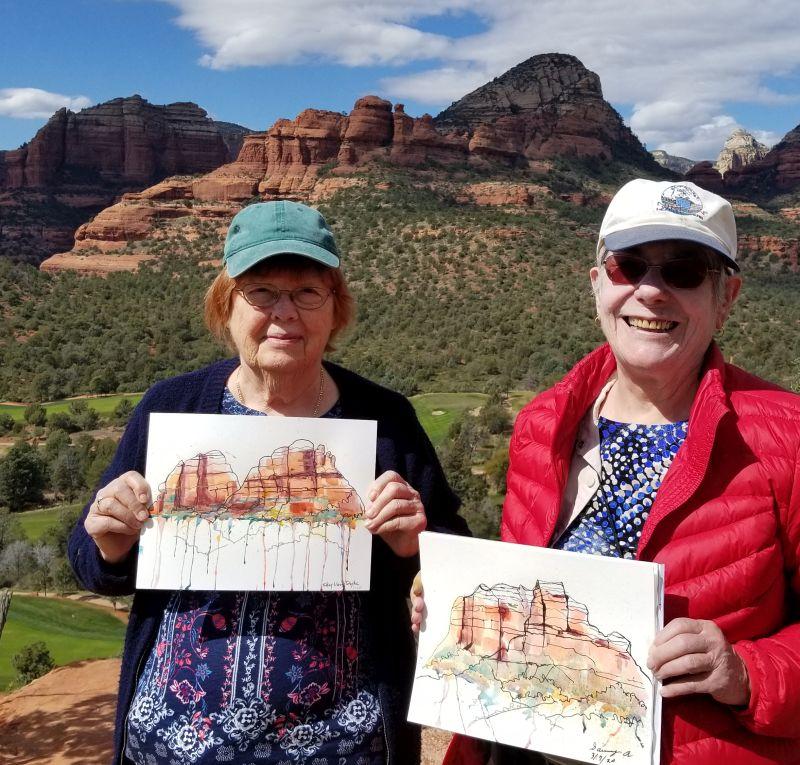 Hours
Please call to reserve a 2 hour session with Ms. Rose. 928.550.1088
Pricing
Pricing: $125 per person. Groups, up to 4 people. Ages 15 + years old
Amenities
All supplies are included. Camping chairs and small table also are included.
Attributes
Locally or Family-Owned Business
Universally Accessible